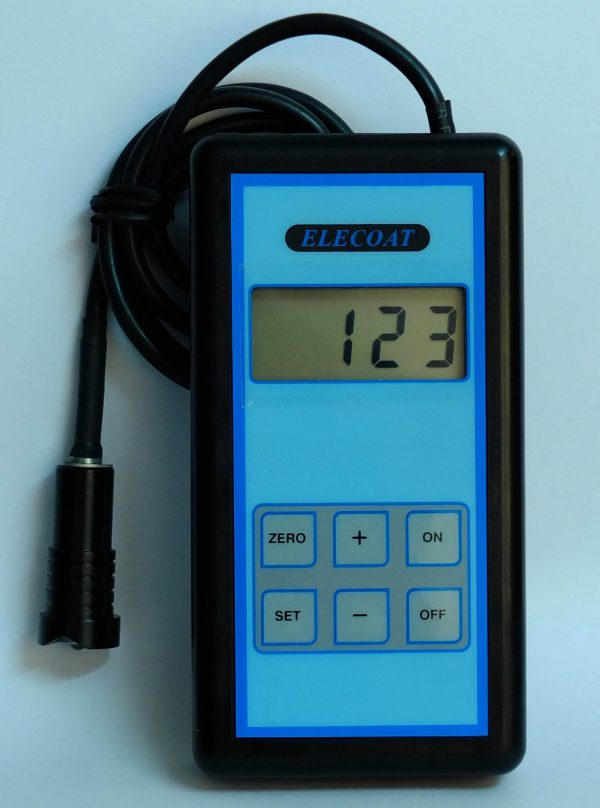 Ferritic Digital Coating thickness Gauge
Brand Name : Elecoat
HSN Code :
Dispacth time (Days) : Ex Stock or 2 – 3 days after your confirmed order and Payment
The images represent actual product though color of the image and product may slightly differ.
HSN codes subject to change.
Tax (%) : 18
● Latest technology with use of smart micro-controller.
● Direct Measurement – No Calibration Required for Most Of Surfaces.
● Highest Accuracy and Resolution.
● "Zero" and "SET" functions along with Foils and Zero base simplicities Calibration.
● Calibration Retaining System.
Probe Design
● Fully Metallic / High Quality Plastic Probe For High Service Life.
● Well Balanced and Spring Loaded Probe for Accurate measurements.
● Ideal Probe design to take reading in complex Field Areas.
● Strong Wear-Resistant Tip For Extra Service Life.
● Highly flexible Probe cable with Strain relief.
Ergonomics
● Compact and Light Weight Instrument.
● Full ABS high impact resistant body.
● Attractive Instrument display and visuals.
● External battery Compartment.
Energy Efficient
● Auto-Off Function.
● Sun Readable and Energy Saving Display. Technical Specification
Range (Microns) 0-1500, 2000, 3000, 6000, 12000 Instrument Size 135*70*24
Resolution(Microns) 0.1<20 Microns, 1>20 Microns Battery Supply Voltage / type 9 Volts (6F22)
Minimum Base Thickness 0.3 MM Working Temperature 10-15 degree C
Minimum Measuring Area 6 MM Standard Probe Size 18 MM * 14 MM (D*L) 40 MM * 25 MM (D*L)
(For 12000 microns)
* Any Commercial / technical aspect may change depending on future development.