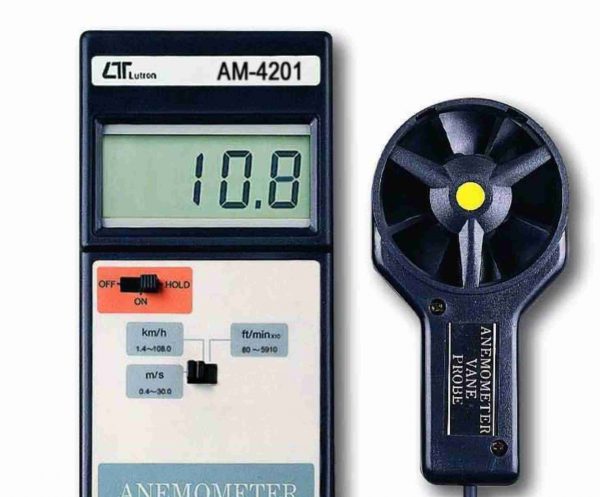 Widely used in data collection for boiler, refrigeration industry, ventilation duct, environment monitor, navigation measurement, weather forecast, collection of the weather datum for outdoor busywork and fire department.
Brand Name : Lutron
HSN Code :
Dispacth time (Days) : Ex Stock or 2 – 3 days after your confirmed order and Payment
The images represent actual product though color of the image and product may slightly differ.
HSN codes subject to change.
Tax (%) : 18
Accessories Accessories Available are: Instruction manual 1 PC
Sensor probe 1 PC
Carrying case 1 PC
Application Use this anemometer to check air conditioning & heating systems, measure air velocities, wind speeds, temperature etc..
Brand Name Lutron View all products of Lutron
Dimension Instrument: 168 x 80 x 35 mm
Display 3-1/2 Digits, 18 mm Liquid crystal display
Item Weight 325 g/0.72 Lb (Including battery)
Model AM-4201
Operating Humidity Less Than 80 % RH
Operating Temperature 0 degree C to 50 degree C (32 degree F to 122 degree F)
Power Consumption Approx DC 9 mA
Power Supply DC 9V 006P, MN 1604 (PP3) battery (Heavy Duty type) or equivalent
Specifications Sensor Head: Round, 72 mm Diameter
Specifications Met ISO 9001, CE, IEC 1010
TSIN T001009789
Accuracy Accuracy: +/- (2 % + 1 d)
Key Features The portable anemometer provides the fast accurate readings, with digital readability and the convenience of a remote sensor separately
Multi functions for air flow measurements: m/s, km/h, ft/min, knots
Low friction ball bearing design allows free vane movement, resulting in accuracy at both high & low velocities
A sensitive balance vane wheel rotates freely in response to air flow
Conventional twisted vane arms, always a source of unreliability have been eliminated
Compact housing cabinet, easy to carry out. Built in low battery indicator
Data hold function for stored the desired value on display. Large LCD Display, easy to read
LCD display for low power consumption & clear read out even in bright ambient light condition
Used the durable, long lasting components, including a strong, light weight ABS-plastic housing case
Measurement Type M/s, Km/h, Ft/min, Knots, Temp: degree C, degree F, Data Hold
Range Air Velocity Range: 0.4 – 30.0 m/s
Resolution Resolution: 0.1 m/s